Introducing a brand new set of colors and gradients for better customization of your calendar!
What are Pro Colors?
Pro colors are new colors that expand the current color customization options.
Color Palettes - the new color sets are professionally arranged into palettes, making color-matching effortless
Color Fade - an attractive gradient effect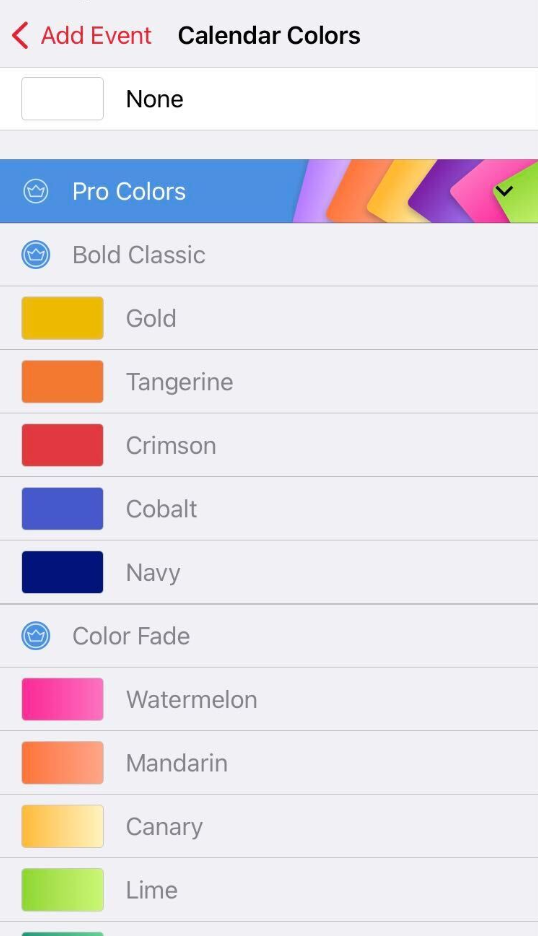 How to add Pro Colors to your events
Create a new event or edit an existing event.
Tap Custom color.
Select a color from one of the new color palettes.
Pro Colors FAQ


Does Pro Colors work on the Mac app?
No, the Mac app currently does not have Pro Colors, however, we are looking into adding it in a future update.

Why do I have custom colors in my calendar but I can no longer adjust them or add new custom colors?
In the updated version of WeekCal, we have made some changes regarding custom colors. Free and one-time purchase users who had previously created custom colors will be pleased to know that they can keep their existing colors however, the ability to adjust or add new custom colors is now part of Pro Colors, a WeekCal Pro subscription feature.