What is the strange code that appeared in the Notes section of the Event I created?
In order to synchronize the custom colors that you choose for your events, WeekCal uses the Notes field to store the hexadecimal code associated with your custom color.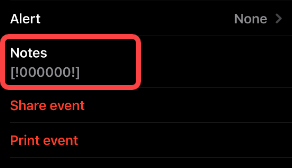 The auto-generated note will appear if Color Synchronization is on and a custom color has been selected for the event. If you find the notes to be inconvenient, Color Synchronization can be turned off in Settings > General > Events & Syncing > Synchronize Colors.